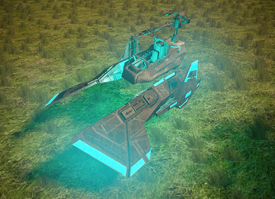 The Hovership Speedy, formerly known as the Heavy Hovercraft, is the largest, fastest, and the most expensive type of 
hovercraft
 available in StarForge. It only has one seat, which is for the pilot. The two forward fins and the upright stabilizers make the heavy hovercraft distinct from the other types. It has two rear exhaust jets that propel it forward.
Similar to the other hovercrafts, it holds a large laser cannon on top of the vehicle, which lacks functionality as of Build 0.4.6. As of Version 0.7.5, the laser cannon was removed from the Hovership Speedy.
The Hovership Speedy requires a Forging Terminal, 325 Iron Ingots, and 160 Graphene Ingots to be forged.
Ad blocker interference detected!
Wikia is a free-to-use site that makes money from advertising. We have a modified experience for viewers using ad blockers

Wikia is not accessible if you've made further modifications. Remove the custom ad blocker rule(s) and the page will load as expected.