The Jelly Puff is a aggressive creature found on Atlas that was implemented in 0.8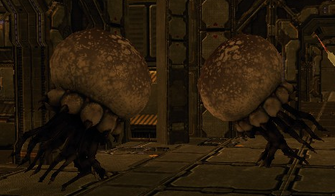 Jelly Puffs are deadly at close quarters, so be careful when wandering about the crashed ships. They seem to be attracted to the radiation, so the stronger the emissions, the more likely you'll run into one of these guys. They are able to float like a jelly, and puff up and explode like a puffer fish.
Jelly Puffs have a dome shell with large spikes on the edges, 8 legs, 2 claws.
Gameplay
Edit
Survival
Edit
Will attack players on sight.
Spawn inside crashed ships. Be sure to check your corners when entering each room of a downed space ship. If one of these is hanging out that you didn't see you better hope you don't have anything valuable on your person. A point blank attack can kill a player in one hit.
Eploding with disputes when see a player nearby.
Special thanks to:
Edit
DjUlt - Photo and material
Mr.Vovanxik - Idea
Ad blocker interference detected!
Wikia is a free-to-use site that makes money from advertising. We have a modified experience for viewers using ad blockers

Wikia is not accessible if you've made further modifications. Remove the custom ad blocker rule(s) and the page will load as expected.